Take the road of quality assurance and innovation - Interview with Shenzhen Kaixin Guangdian Co., Ltd. Chairman Zhenbo Chen
Unerring ability to Blue Ocean

Zhenbo Chen, chairman of Shenzhen Kaixin Guangdian Co., Ltd., was part of the wave of entrepreneurship in the 1980s and 1990s. Like many successful entrepreneurs today, he is also an excellent representative from scratch. Looking back on the past, he talked happily, without the imaginary " grumble", not even a pride of "famous for success." Throughout the interview process, he was smiling humbly, and talk the most is about the quality of the company, innovation, and the general truth of life, let us naturally think of "pretty", "sincere" and other keywords.
Zhenbo Chen had been working as an ordinary employee at a factory in Fujian. He was also involved in several jobs: procurement, customs contact, etc. He learned a lot from it. He also often gives the boss some rationalization advice and he is highly appraised by his superiors. Successful people have always been dissatisfied with the reality. After seeing the company's short board, Zhenbo Chen realized that this is not his long-term place. At that time, Shenzhen was just in a period of rapid development and he realized that there might be suitable opportunities.
In 1994, Kaixin International Co., Ltd. was established to expand LED components and potentiometer products business in overseas markets. In the beginning, the company's products were produced by other factories, but Zhenbo Chen quickly realized that the quality of products could not be controlled – this is the biggest hidden danger for the company's development prospects. In 1997, the company produced its own products, strictly controlled the quality of its products, and occupied the market with a solid reputation. At this time, Kaixin mainly focused on home appliances like Midea, Grams, and the meter industry. Professional skills and irreplaceable product guarantees have allowed Kaixin to quickly open optimistic scenarios in the market: almost every family in Tianjin use this company's electricity meters, and it also accounts for 70% of market share in Beijing.
In 1998, the "sharp sense " allowed Zhenbo Chen to start testing LED terminal products. He tried to make a traffic light, but he quickly gave up and switched to LED display due to high cost. In 2000, Kaixin created an arc-shaped LED display and undertook the 180-square-meter LED display project of Shanghai Tourism Tunnel. In 2002, the LED industry already had quite a few fans in Shenzhen. In the tide of following the trend, Zhenbo Chen knew that the time had come to make another change. So he switched to LED application lighting. It can be said that Kaixin was the first company in Shenzhen to apply lighting. The main positioning of the company was the decoration and landscape lighting due to technical limitations. With the improvement of LED technology, Kaixin also made timely adjustments, successively established strategic cooperation relationships with a number of internationally renowned brands, and established a good reputation image and reputation in the industry.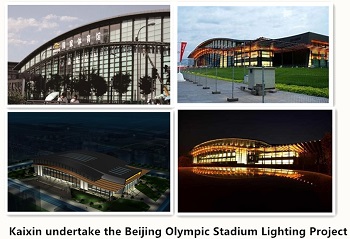 Quality is the self-esteem and character of Kaixin people.
Chairman Chen shared with us that the current status of Shenzhen LED industry is not optimistic:
1.Always focus on foreign trade, do not pay attention to the domestic market, resulting in very low popularity;
2.Lack of core technology, true core technology is still in the hands of international giants;
3.Do not pay attention to the retail market, almost all LED manufacturers know that the retail market is a great mine, but there is no way to develop;
4.Shenzhen LED manufacturers do not pay attention to self-promoting, which caused its lack of information in the domestic market, the brand image is weak
5.In order to survive, the introduction of the cheap copy mobile phone model by some of Shenzhen's new LED factories, and even slashing the market below the cost price, has greatly damaged the image of the "Shenzhen brand".
It is because of such a lot of shortcomings that Zhenbo Chen saw the direction that Kaixin needs to work hard. In his heart, he clearly needs to make breakthroughs in some areas in order to change the current disorderly status of the LED industry – doing his job well. The simple four-character words contain too many "Local conditions" and "specific analysis of specific situations", but Zhenbo Chen, who is practical and hard-working as a style of work, knows that product quality is always the best proof of corporate strength.
Kaixin now is a national high-tech enterprise specializing in the R&D, production, and sales of LED components, as well as the integration of LED light sources and LED lighting applications. After nearly 20 years of development, Kaixin has been more competitive after experiencing the financial turmoil, economic crisis, and industry-style wave. The accumulation of time is not only an industry experience, but more importantly, a stable customer base, a good reputation, and industry-recognized product quality.
Products, it is the most direct business card. It is also a display of another image of the business owner. Product quality, appearance design and general feeling represent the facade of the company. A good company speaks with strength, and strength depends on product quality. Zhenbo Chen deeply understands the significance of product quality for the entire enterprise. Therefore, no matter how the external environment changes and how much the cost is increased, the first thing to ensure is the product quality.
| | | |
| --- | --- | --- |
| | | |
| Kaixin production line | | Kaixin downlight |
We would imagine that with such a large number of internationally renowned brands cooperate, and long-term partners, Kaixin's sales team must be very powerful. However, Zhenbo Chen frankly stated that all this is due to excellent product quality. To be good at yourself, demanders will find this "good taste" to discover your breath, everything depends on quality.
With orders from big brands, Kaixin is more like "good wind with force," and continues to work steadily. Zhenbo Chen said, "I have 100 people who are 100 families and 500 people are 500 families. We must be stable. We must not overlook the most important part because of small achievements." It is with such responsibility, Zhenbo Chen's own good quality has also become his own business card, in gaining the trust of partners, but also won the respect of employees.
In Zhenbo Chen's values, to do a product is just like a person, to be sincere, the product speaks with quality, just as a man wants to speak with personality charm.
As a professional low-carbon lighting company, Kaixin Guangdian has 18 years of manufacturing experience in light source devices. In order to ensure the company's technological leadership and competitiveness, since 2004, it has successively reached strategic partnerships with national key scientific research institutions. Through constant efforts, Kaixin has mastered advanced technical capabilities in electronic application technology development, electronic control system development, semiconductor sealing technology, semiconductor optoelectronic application technology development, professional optical lens design, etc. There are more than 60 patents and industry-leading lighting intelligent control technology and more than 100 successful lighting cases at home and abroad have played a pivotal role in the development of low-carbon lighting.